---
Trapped:
       How Lobsters Built a Factory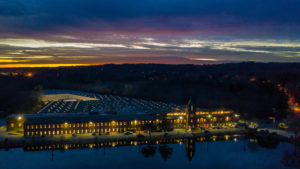 Nestled in the woods along the Blackstone River is the Riverdale Mills Corporation. Built within an old 19th-century textile mill, today, Riverdale uses steel wire to make fencing and is best known for providing wire mesh used for making lobster traps.
Mr. James Knott Jr. welcomed GearHeads for a behind the scenes tour of the company his father, James Knott Sr., created back in 1979. Engineer, and inventor with a passion for business and science, James Knott Sr. was a native of Gloucester, MA and was also a part time lobsterman. In the 1960s, he invented a new process to make wire much less prone to rust. At the same time, he observed that the old wood and r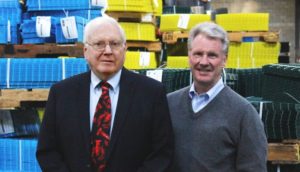 ope lobster traps were very heavy and frequently broke. Over several years Mr. Knott Sr. experimented, talked with fishermen on the docks, and experimented some more. His signature product Aquamesh® was born and a new industry was created in an old textile mill building in Northbridge, MA.
Riverdale Mills is a vibrant, exciting manufactory. The making of mesh screens is similar to how cloth is made with the screens being woven on huge, room size looms. The factory runs 24 hours a day and employs over 200 people, and Mr. Knott tells us that they are making plans to expand even more! Their products travel around the world – being used for lobster traps, crawfish and crab traps, agricultural wire, security fencing and even furniture.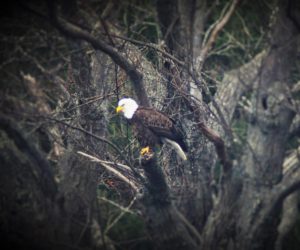 Riverdale Mills takes care of the environment. Steel is one of the most recycled materials in the world and nearly 100% of the metal Riverdale uses comes from recycled sources. Furthermore, they recycle all of their own metal, wood, plastic, and paper waste. When Mr. Knott Sr. first began restoring the mill, he took pains also to rebuild the dam and restore the millpond. Today the pond provides a thriving habitat for wetland plants, trees, and animals including a nesting pair of American Bald Eagles. The dam creates water supplying about 10% of the factory's electricity needs – enough power for 150 homes.
What does it take to work at Riverdale? All sorts – James Knott Sr. was an engineer, an inventor, and had a passion for science and business. We talked with an amazing group of people who were working during our visit – engineers, electricians, sales people, machine operators and planners of all kinds. What do you think you should study to work in this kind of factory?
Thank you, Riverdale and Mr. Knott for taking GearHeads on an incredible tour.
---
GearHead Activity
Have you ever wanted to invent something? What would your invention do? What would your invention look like? Share your story and pictures about your invention and we'll add it to the GearHeads Gallery!