Many National Parks have Junior Rangers.  At the Blackstone River Valley National Historical Park, Junior Rangers are called GearHeads to celebrate our industrial past. To be a GearHead: try out some activities on the GearHeads page, explore some of the Historical Park, and take part in some of our Junior Ranger programs throughout the year.
Explore! Discover! Protect!
                           . . . and 
---
Junior Ranger Certificate
Print out this certificate and bring it with you when you visit. Show it to a Ranger and get your Junior Ranger Badge.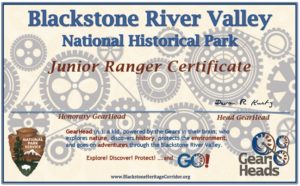 ---
WEB Rangers
Now you can be a Junior Ranger even if you are not able to visit a national park. You become a member of a growing group of young people who are interested in the world around them and involved with their nation's heritage….The WebRangers! Play more than 50 games and learn about your National Parks.